Do you love Road Trips?
Road trip from Shimla to Manali should be on top of your bucket list. Distance from Shimla to Manali is approximately 237 kilometres, this distance is quite long in hills but the landscape you will find along the way is just amazing.
You won't feel like getting bored at any point of time when you start from Shimla to Manali.
Skip to content of your interest
Directions from Shimla to Manali
This mesmerising road trip from Shimla to Manali takes approximately 7 hours and 30 minutes minimum, sometime you may drive for long hours depending upon the traffic and season. In the Rainy season it's quite difficult to drive on such hilly roads of Himachal, in fact, it's not recommended. In Apple harvesting season, this highway has a traffic of trucks carrying fruits to North India's market markets like Delhi/NCR.
The road on this highway is quite very good; if you're confident in your driving, you can definitely drive yourself to Manali from Shimla. Or instead, you can book a cab or take the bus from Shimla.
Destinations shouldn't be missed out while driving from Shimla to Manali
Since the duo Shimla and Manali are in Himachal the most beautiful land in India, there are many mesmerising and attractive places one can see while travelling from Shimla to Manali by road.
While you are in Shimla, I consider you've already seen its major attractions like Jakhu Temple, Naldera, Mashobra, Fagu, Narkanda, and many more are there. You can visit attractions in Shimla to know more about them.
Let's start from Shimla itself,
Bhararighat, Himachal Pradesh – 56 km from Shimla
On the way to Manali from Shimla, Bhararighat is around 55 kilometres from the Shimla bus stand. In earlier days when most people used to take HRTC buses from Shimla to Manali, this place was so popular halt for food and snacks. Since there are many small villages like Shalaghat, Darlaghat, etc nearby this place, many local people have opened small dhabas on the Highway.
One can witness some major cement plants in these ghats like Ambuja Cement and Ultratech Cement.
Bilaspur, Himachal Pradesh – 86 km from Shimla
Next major halt one can take at Bilaspur while you are enjoying your drive from Shimla to Manali. I'm sure you know about Bhakra Nangal Dam, but there is something you should know about a man-made lake. Yes, there is a man-made lake created by Bhakra Nangal Dam, it is called as Govind Sagar Lake. You should definitely spend some time here to admire the mad made creations.
By the way, you can avoid travelling to Bilaspur on the route to Manali and take a diversion from Brahampukhar vis Zukhala and reach Ghaghas. Now you can follow the beautiful view of River Beas along the way to Manali on NH 154 which connects Shimla to Manali.
On this road trip to Manali, you can witness another major Cement plant of ACC.
Sundar Nagar, Himachal Pradesh – 130 km from Shimla
Now you have reached almost half the distance of your long journey from Queen of Hills Shimla to Manali, the distance travelled is around 130 kilometres. From Sundar Nagar along the road you can find a beautiful landscape of the Bhakra Nangal Dam Project Canal.
Mandi, Himachal Pradesh – 155 kms from Shimla
Distance from Shimla to Manali is bit long on this hill side highway, you might want to take a halt. Mandi is one of the most famous hill station of Himachal Pradesh. The place can leave an unforgettable memory, since this place has everything from adventure activities to religious sites.
Famous attractions in Mandi,
Rewalsar Lake
Panchvaktra Temple
Sunken Garden
Tarna Temple
Bhuntar, Himachal Pradesh – 210 kms from Shimla
Bhuntar is a town located in the district of Kullu in Himachal Pradesh. There are not many places to visit or things to do in Bhuntar, but this place in the route from Shimla to Manali is typically used as a getaway to the towns of Kullu, Manali, Kasol and Manikaran. It is incredibly picturesque.
Kullu, Himachal Pradesh – 230 km from Shimla
On the way to Manali from Shimla, Kullu could be your halt to experience adventure sports. Kullu is also known as the 'Valley of Gods' since Kullu is a cluster of beautiful valleys in Himachal Pradesh. Mostly Kullu is clubbed with Manali as Kullu-Manali and is quite a favourite among tourists, especially honeymooners.
As I mentioned Kullu is a hot spot for adventure activities, while in the midst of your drive from Shimla to Manali, you may experience adventure activities like trekking, river rafting, mountaineering, paragliding and hiking over the Himalayan glaciers.
You can in fact indulge yourself with angling on the shore of Beas river.
Some of the tourists prefer to stay in Kullu instead of Manali, if you're one of those then cottages are available for rent in the hills as they are quite cheap and also comfortable. Most of the hotels in Kullu are located at the foothills.
They do have some luxury resorts too which would cost anywhere from Rs 4,000 per day. Budget and mid-range hotels are also available at pocket-friendly prices.
Manali, Himachal Pradesh – 250 km from Shimla
Last but not least, Manali is the destination we headed from Shimla.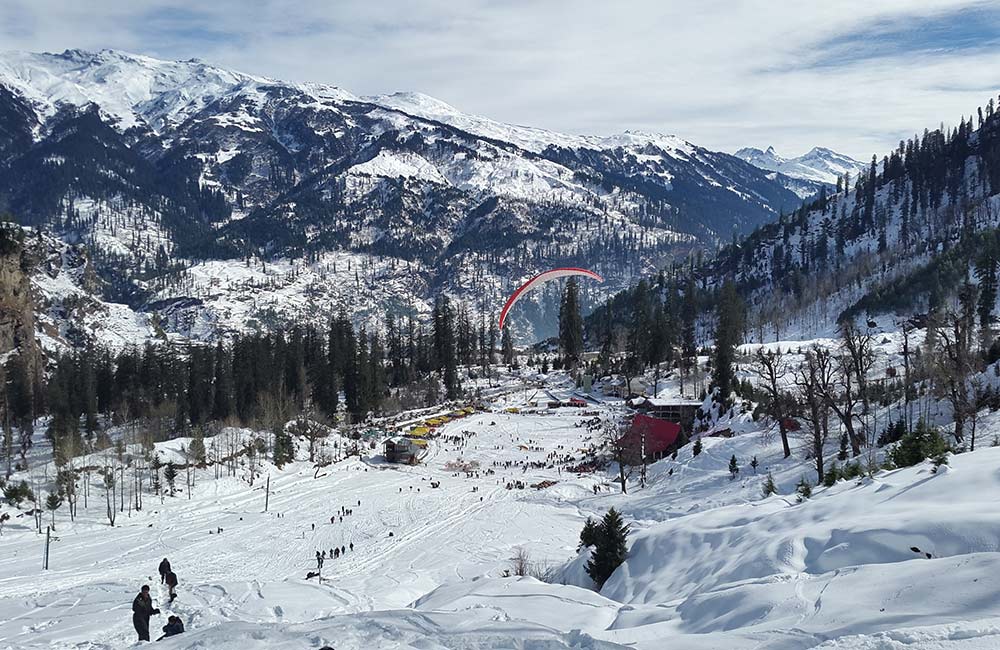 Which one is better Shimla or Manali in Himachal Pradesh?
Both Shimla and Manali have there own beauty and quite similar in nature. To know more about which one is better you can this beautifully written blog Shimla vs Manali
Do we have tolls on the road from Shimla to Manali?
Yes we do have some tolls on this route to Manali from Shimla, which cost you around Rs. 450-500
Will there be any difference in temperature when traveling from Shimla to Manali?
There will not be much difference in temperature just 1-2 °C, being at higher altitude you may feel lower temperature in Manali.
Is the road from Shimla to Manali safe for self drive?
Yes roads are safe if you follow the rules, never overtake in hilly roads, stay on your left and avoid planning such road trips in Monsoon. These mountains are prone to land slide.
Is there any train from Shimla to Manali, like we have toy train from Kalka to Shimla?
There is no direct train to Manali, as we don't have any railway station in Manali. The last railway station is at Jonginder Nagar which is around 140 kms from Manali. You'll have to anyhow take the cab or bus, so cab or bus would be the best choice.
How much it cost in HRTC bus from Shimla to Manali?
It cost around Rs. 800 per person.
How much it cost in cab/taxi from Shimla to Manali?
Cab can cost you around Rs. 5000 minimum.
How much a Shimla to Manali tour package will cost including accommodation?
You can contact us for such packages, on an average 6 days Delhi-Shimla-Manali-Delhi by Volvo cost around Rs. 15,000
This includes all Volvo tickets, stay in 3 star property with breakfast and dinner.
Do you sell Shimla Manali Honeymoon Packages?
Yes we do sell Shimla Kullu Manali Honeymoon Packages.
Think honeymoon packages, Think World Travel Packages!
What is the frequency of buses from Shimla to Manali?
There are almost 5 operators on this route to Manali from Shimla, and earliest bus departs around 8:30 AM and the last to leave Shimla depot is around 6:20 PM.