Skip to content of your interest
EINS, ZWEI, DREI, G'SUFFA! (one, two, three, drink! In Bavarian Language)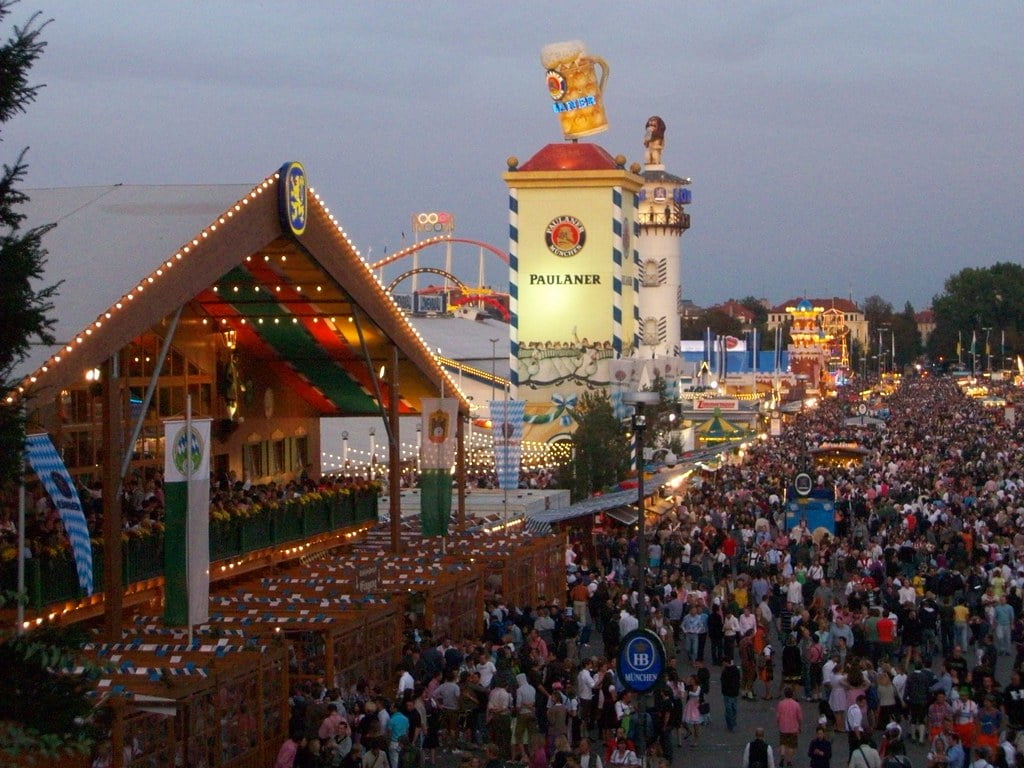 Munich's largest and most traditional breweries cordially invite you to join the festivities at Oktoberfest 2019. Drink beer by the litre and eat traditional Bavarian food such as pretzels with a diameter of 15 inches.
The famous Oktoberfest is a colorful celebration of German beer, culture, and cuisine. Get a taste of Bavaria in more than 30 Oktoberfest beer tents, each one proudly serving different local beers, which were handcrafted in some of Bavaria's finest breweries. Don't forget to taste some of the delicious food and sweets served at this event.
Between September and October, something incredible happens in Munich. Lovers of beers, Bavaria and parties create the best festival around!
Festivals are often pretentious. They're about what you're wearing, who you know, and eating the trendiest of foods. But then there's Oktoberfest. Instead of swanky Raybans, there are giant steins of beer. Hip bands are replaced by people shouting old drinking songs. And in place of the falafel stands, there are neon-lit festival rides and gigantic sausages. It's 100% unadulterated fun! Join this trip and go to the festival where the enjoyable is more important than the fashionable.
Oktoberfest is an enormous festival in Munich, Germany that happens yearly from mid-September to the start of October. The festival takes place over three consecutive weekends during which more than seven million people from around the globe attend.
Generally, the celebration is a festival of the wedding ceremony between Prince Ludwig and Princess Therese in 1810. Today, Oktoberfest, which takes up 420,000 square feet in Munich, is known for rides, attractions, games, and obviously, beer.
When is Oktoberfest 2019 schedule in Munich, Germany?
Oktoberfest 2019 schedule and dates are given as under,
| | | |
| --- | --- | --- |
| Date | Time | Event |
| 21st Sept. 2019 | 10:45 AM | The parade of the Wiesn landlords and breweries. |
| 21st Sept. 2019 | 12:00 PM | Oktoberfest tapping and opening ceremony. |
| 22nd Sept 2019 | 10:00 AM | The traditional costume and hunters' parade. |
| 26th Sept 2019 | 10:00 AM | The Wiesn church service |
| 29th Sept 2019 | 11:00 AM | The Wiesn landlords' concert |
| 06th 0ct. 2019 | 12:00 PM | Traditional gun salutes by the Bavaria statue. |
What to expect at Oktoberfest in Munich, Germany?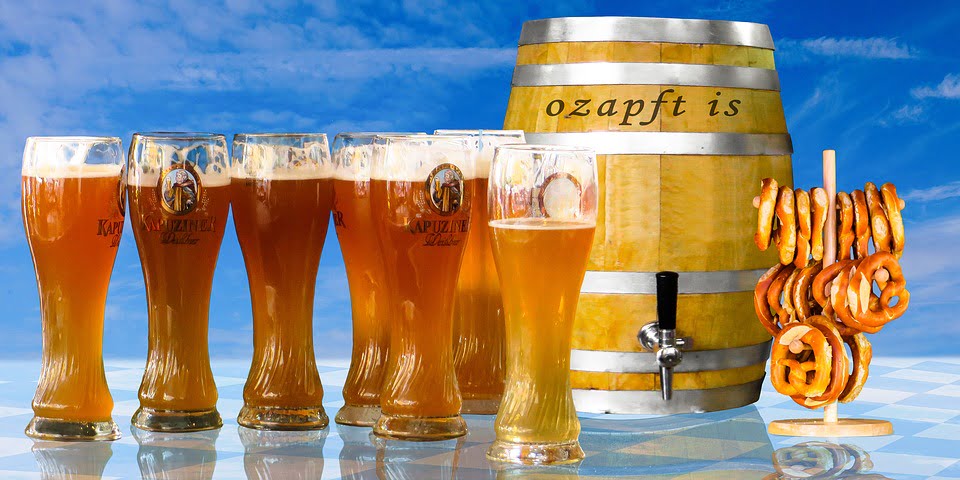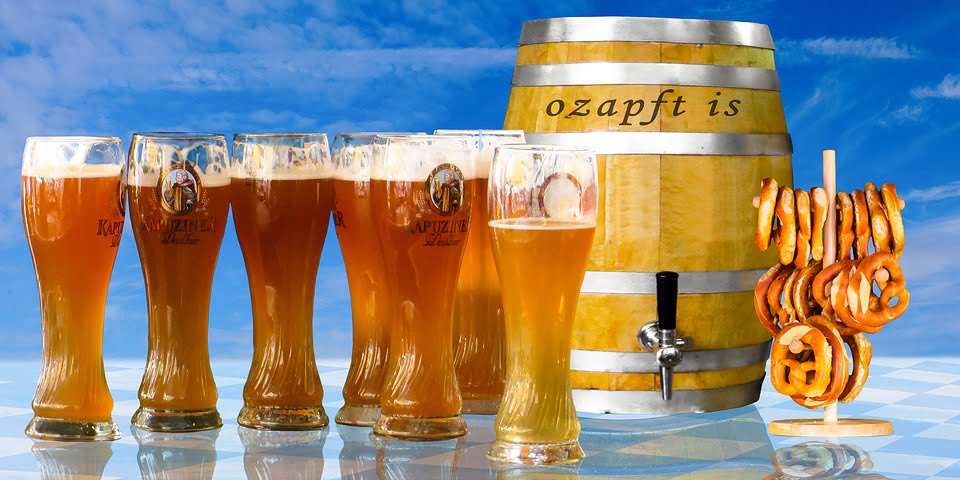 The celebration opens early, yet tents begin serving beers at around 10:00 AM and quit serving at 10:30 PM. If you don't have a booking and need to get a table, prepare to arrive between six and seven a.m.
You don't have to purchase tickets to get into the festival, but there is a lot to buy once you arrive there.
The Oktoberfest grounds are huge, and you can look over huge amounts of tents and activities. Start by going for a stroll through the central avenue to get your bearings (and scan the food options).
There are more than fourteen big tents and twenty smaller tents at the festival. It very well may be difficult to choose which ones to visit, however, most of them are generally the same.
What to drink at Oktoberfest 2019?
The main drink of Oktoberfest is of course…beer.
To get a stein of beer in a tent, you should sit or stand at a table. Now and then this can be extreme as the tables are for the most part crowded. In case you're traveling solo or with a small group, people will usually let you stand near their table so that you can order.
Once you've secured a spot, it's up to you to catch one of the beer maids (they're easy to find) and order a stein. One stein of beer typically costs ten to twelve euros, and it is easier for everyone if you have exact change ready.
The maids are typically handling five to ten beers at a time, and things can get messy!
If you're not a beer lover, but you still want to participate in the fun, try a "Radler" or "shand," which is beer mixed with lemonade! Also, beware that a stein of water is around eight euro. Your best bet is to get a bottle from an outside booth.
There are also a couple of booths on the outside labeled "café" that sell coffee, sodas, wine, and various hard liquors. Be aware that the beer in Germany is about six percent alcohol—American beer is usually only three to five percent.
What foods are eaten at Oktoberfest? Is there anything different in Oktoberfest 2019?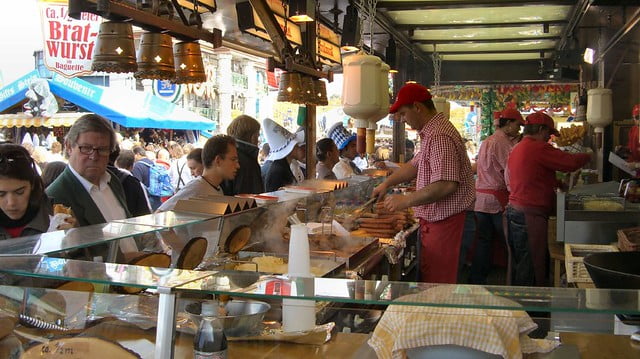 A ton of food stands line the main street, but most of them are repeats, so if you see something that catches your eye, snatch it when you see it!
A few things you'll discover are bratwurst, pretzels, french fries, candy-coated assorted nuts, chocolate-covered fruit, gingerbread treats (can serve as a gift), and fish.
For all you vegans, a few stalls even serve veggie burgers!
If you do get fortunate enough to sit at a table inside a tent, request some food! All the tents serve customary steaming-hot German dinners that smell, look, and taste scrumptious. A large portion of it is some variety of pork and potatoes.
If you're not at a table and you're feeling somewhat peckish, there are always people walking around selling giant pretzels.
All these festivities are being celebrated since centuries now, most of the thing you'll find the same every year. It is obvious, Oktoberfest 2019 has different thing than in year 1810, but it's almost same in last few decades.
What to wear to Oktoberfest?
A majority of the people at Oktoberfest wear traditional attire, which is a dirndl for ladies and lederhosen for men. It is thoroughly fine not to wear these, however, you will stand out. You can arrange dirndls and lederhosen on Amazon before you arrive in Germany, however, know that they aren't traditional, and they might end up looking more like a Halloween costume.The best choice is to purchase your attire at a store around the local area. Dirndls and lederhosen are accessible all over close to the festival, so they won't be hard to find. Dirndls extend from 70 to 150 euros while lederhosen run from 90 to 200 euros. Some of the campsites or hostels may even sell them for discounted prices.Make sure you TRY THEM ON before you buy! Ladies, the top of your dirndl is going to be tight, but make sure you can still breathe and that there is a little room for when your belly gets a little fuller later in the day.As far as shoes, people wear all different things. The most traditional footwear for females is a pair of ballet flats, kitten heels, or booties. But, a lot of people also wear converse or other kind of sneakers. I recommend buying a cheap pair of shoes you won't care about getting dirty because you will most likely be walking through puddles of beer by the end of the day.Though it is cold during late September and early October in Germany, don't worry about wearing a jacket or sweater. It gets very hot inside the beer tents, and you will more than likely lose a jacket if you take it off.Some ladies wear nude or black tights under their dirndls, but the majority of women wear them without anything extra and are still comfortable. Remember, dirndls are long, and they have a lot of fabric and layers.Lastly,
if you can help it, don't bring a purse/wallet
. There are way too many stories of people who have things stolen (cell phones, credit cards, and even passports) during the festival. The best thing to do is go old school; take only what you need and stuff it somewhere on you!
How old is Oktoberfest now in 2019?
Crown Prince Ludwig, later to become King Ludwig I, was married to Princess Therese of Saxony-Hildburghausen on 12th October 1810. The citizens of Munich were invited to attend the festivities held on the fields in front of the city gates to celebrate the happy royal event. The fields have been named Theresienwiese ("Theresa's fields") in honor of the Crown Princess ever since, although the locals have since abbreviated the name simply to the "Wies'n".
Source: Muenchen
So, literally Oktoberfest 2019 at Munich, Germany is 208th celebration of this festivities.
What is the cost of tickets for Oktoberfest 2019?
Are you looking for tickets for Oktoberfest? We're all very lucky, there is no such thing like this. Entry to Oktoberfest is absolutely free for everyone.
How old can drink at Oktoberfest in party city Munich, Germany?
According to alcohol law in Germany, no one under 18 years of age can buy alcohol of any kind and has 3 age limits for consuming as mentioned as under,
Age <= 13 – Considered as minors and are allowed to consume beer or wine with their parents or legal guardian. They are not allowed to consume distilled alcohol.
Age <= 16 – Considered as minors as well, but they are allowed to consume beer or wine without their parents or legal guardian. They are not allowed to consume distilled alcohol. Age >= 18 – Legally adults and are allowed to consume distilled alcohol as well.
Oktoberfest is always celebrated in Munich, Germany, so it's obvious that it will falls under the same laws of the nation.
What is the location of Oktoberfest 2019?
Theresienwiese is an open space in the Munich borough of Ludwigsvorstadt-Isarvorstadt. It serves as the official ground of the Oktoberfest, which is being celebrated from last 2 centuries in Munich, Germany.