You heard it right, Azerbaijan is the land of fire where earth farts!!
Azerbaijan is famously known as Land of fire since this place is huge reserve of oil and natural gas; fire often burst from the mountain and sea. There is a famous tourist place Yanar Dag, where a hillside is burning for many years. In Azerbaijan near Baku, they have a historical temple Ateshgah, the temple of fire.
You must be wondering, why Azerbaijan is a place where earth farts? You must look at the below video,
Basic information of Azerbaijan
Currency: Azerbaijani Manats (AZN)
Population: 10 Million
Timezone: GMT (+4:00) , IST (-1:30)
Area : 86,600 km sq.
Capital: Baku
Official Language: Azerbaijani (Azeri), Lezgi, Russian, Armenian
Capital's Calling Code: +994
Azerbaijan pronounce:
Azerbaijan is an amazing tourist destination Situated at the crossroad of Western Asia and Eastern Europe. Let's see some of the beauty of Baku, Azerbaijan which is attracting tourism a lot.
First and foremost is the place for which Azerbaijan is known for is Fire Temple, Ateshgah.
Ateshgah, the temple of fire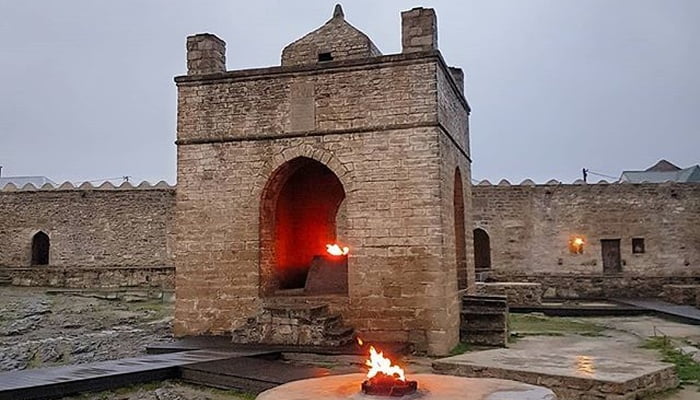 Yanar Dag – Burning Mountains
Mud Volcanoes of Qobustan (Gobustan)